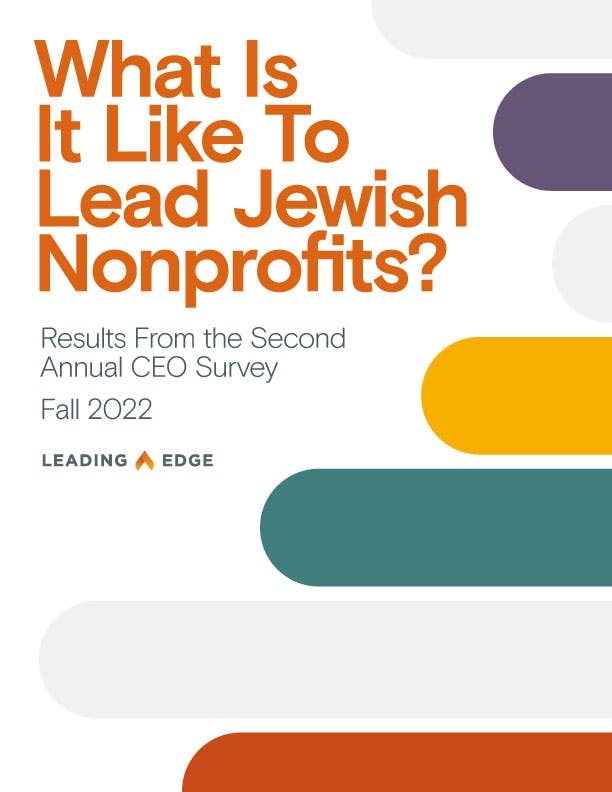 Executives
Report
What Is It Like to Lead Jewish Nonprofits? Results from the Second Annual CEO Survey
This report shares findings from Leading Edge's second CEO Survey, drawing on the experiences of 222 leaders of Jewish nonprofits from around North America.
The CEO Survey was created to help Leading Edge understand who is leading Jewish nonprofits, how they got there, what their experience is like, what their common strengths and struggles are, how they experience their partnerships with their boards and senior teams, what kinds of support they most need, and who is (and isn't yet) well represented among them.
222 CEOs responded to the survey in May 2022. (We use the word "CEO" to refer to any topmost professional nonprofit leader, including those with "Executive Director" titles or other equivalent titles.)
Top Headlines:
CEOs in the first two years of their roles need extra support.
CEOs we surveyed are not representative (in demographic identity terms) of either the North American Jewish community or the Jewish nonprofit workforce. Men lead the organizations surveyed disproportionately to both the population and the gender breakdown of these organizations' teams. Jews of Color and people with disabilities are also underrepresented.
CEOs are overwhelmingly likely to feel favorable about their relationships with their boards, but less likely to feel favorable about the board's performance of their core functions—fundraising, giving useful evaluation feedback to the CEO, and being partners in setting a long-term vision and strategy.
CEOs promoted from within their organizations are less likely to struggle with fundraising and board partnership.
CEOs with past experience serving on a board tend to have better experiences with board partnership.
CEOs' ability to disconnect from work is related to their employees' ability to do the same.
There is a perception gap between employees and CEOs regarding open communication and the organization's concern for employee well-being.
CEOs and employees are most aligned regarding organizational DEIB (Diversity, Equity, Inclusion, & Belonging) change and inclusivity, as well as risk-taking.