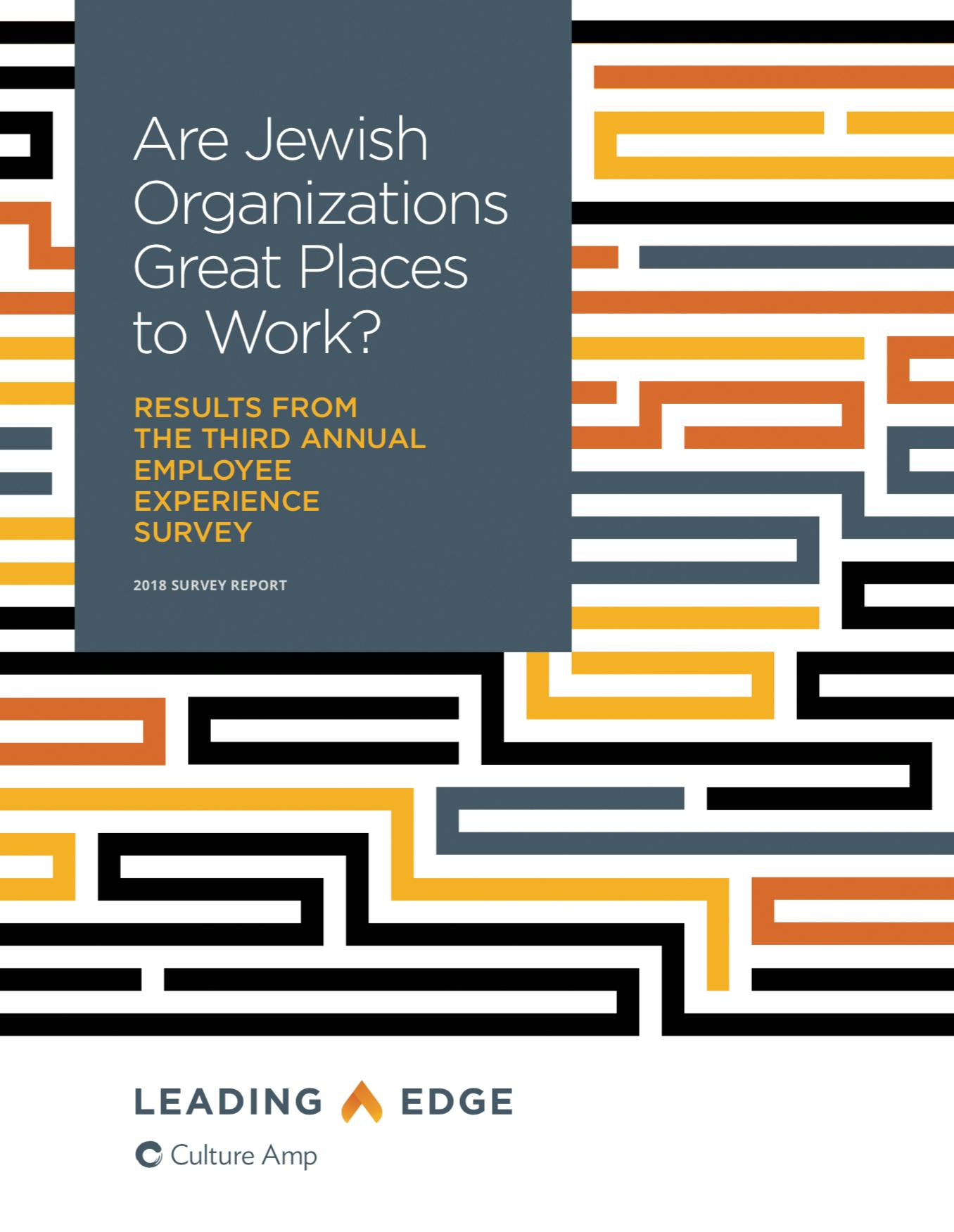 Organizational Culture
Report
Are Jewish Organizations Great Places to Work? Results from Third Annual Employee Experience Survey (2018)
To support organizations in creating even better places to work, Leading Edge conducts an annual Employee Experience Survey. In 2018, some 7,300 employees from 105 organizations participated.
Key findings
An overwhelming majority of Jewish nonprofit employees understand how their work contributes to their organizational mission—far more than in other industries.
Still, a deep connection to mission does not compensate for other workplace challenges. When ascertaining if employees would recommend their organizations as a great place to work, the sector scored 16% below the U.S. benchmark. How employees view and discuss their experience at work has implications related to recruitment, the organization's reputation in the community, and even fundraising potential.
Professional leadership is one of the most important factors when comparing those who want to stay at their organizations compared to those who would like to leave. These results show improvement is needed regarding employees' confidence in their organization's senior leaders, including board members.
Leading Edge survey respondents overall expressed positive experiences and general confidence in their immediate managers and feel cared for and respected by them. Yet, for the third year in a row, Leading Edge has found that some fundamental management practices are weak in Jewish organizations.
Overall, 52% of respondents would like to advance within their organization; yet only 38% see opportunities for advancement within their organization. There is a 6% gap between the number of women who want to advance to a more senior role (39%) and the number of men (45%).
The greatest difference among all areas studied between male and female respondents is related to compensation. Specifically, men are 12% more likely than women to understand how compensation, salary, and raises are set at their organization—likely due in part because men are more often than women in leadership roles within Jewish organizations.
Overall, women feel less psychologically safe—less comfortable expressing themselves and being themselves—than men, and those who felt the least psychologically safe in their workplace did not respond to demographic questions related to their gender or age.
On the plus side, awareness of sexual harassment policies has increased significantly year over year, with leaders successfully working to ensure that their organizations have solid procedures in place.
As always, the most important factor when it comes to employee engagement is leadership.