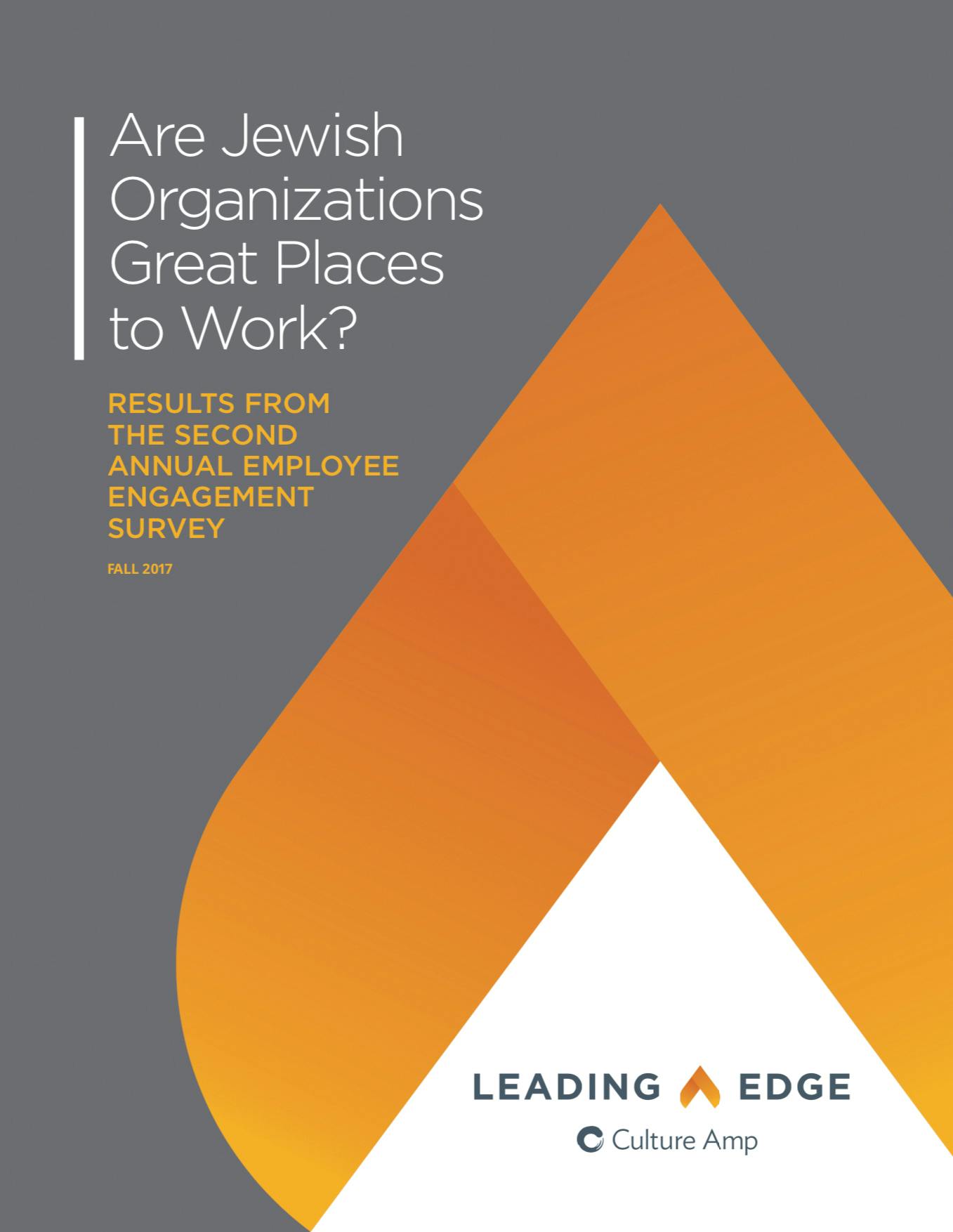 Organizational Culture
Report
Are Jewish Organizations Great Places to Work? Results from the Second Annual Employee Engagement Survey (2017)
To support organizations in creating even better places to work, Leading Edge conducts an annual Employee Experience Survey. In 2017, 4,470 employees across 68 Jewish organizations responded to questions about their experience at work, workplace culture, factors that drive their engagement at work, and elements that contribute most to their desire to stay at their organization and in the Jewish nonprofit sector.
Survey Findings
Presented below are overall themes, compared with the General Industry Benchmark.
STRENGTHS
Employees are motivated by the mission of their organizations and understand how their specific jobs contribute to the greater organizational mission (+1% above the General Industry Benchmark).
Employees know what they need to do to be successful in their roles (+5%).
Employees are able to access learning and development opportunities to do their current jobs well (+1%).
WEAKNESSES
Employees do not feel they have the resources (-9% below the General Industry Benchmark) or autonomy (-7%) to do their jobs effectively.
Employees do not believe they have a pathway to advancement at their current organizations (-7%) AND feel more strongly that workloads are not divided fairly (-25%).
Employees do not receive useful performance feedback (-6%).
Employees do not receive high-quality support from other parts of the organizations on which they depend (-8%).
Less than half of respondents think they will continue working in the Jewish nonprofit sector for five years or more.
Jewish nonprofits are not yet the leading places to work; however, there is an increased recognition of this challenge and the need to address it.