Do you know an eligible CEO? Applications are open until April 15.
The Leading Edge team is excited to announce that applications are now open for the fourth cohort of Leading Edge's CEO Onboarding Program, a 12-month, intensive leadership development opportunity for new CEOs and Executive Directors in the North American Jewish community. 
Working directly with expert consultants, leaders, thinkers, and leadership development institutions, accepted participants will enhance their executive skills and strengthen their performance in the North American Jewish community during their first critical months and years in their organizations.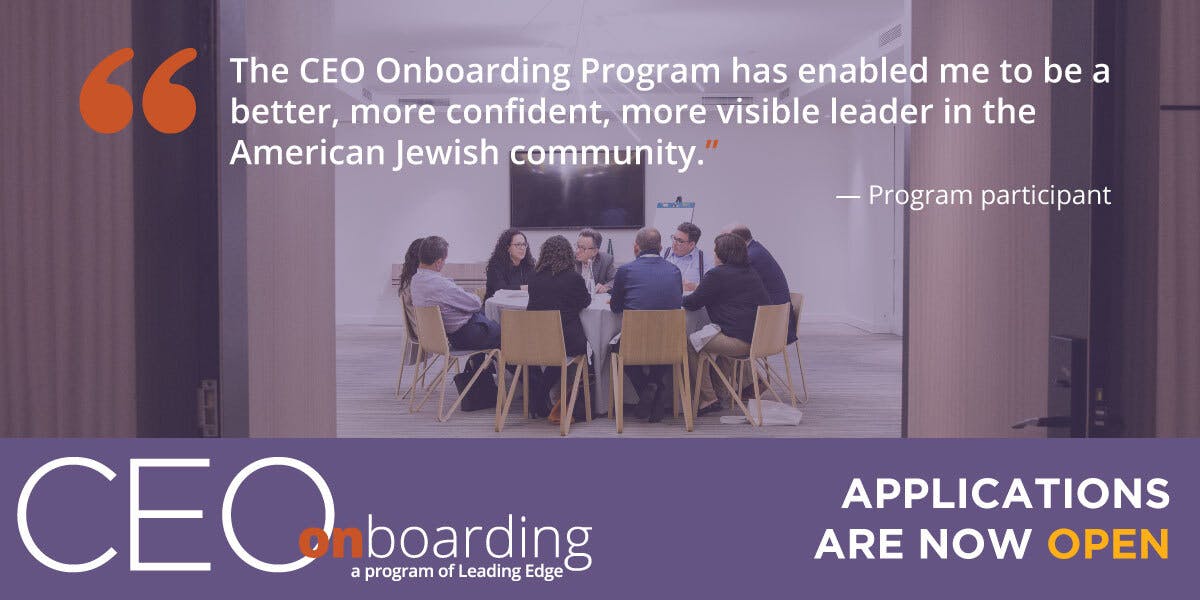 The events of 2020, including the COVID-19 pandemic, movements for racial justice, and recent political turmoil required senior executives to confront unimaginable change, loss, and, for some, opportunity. Cohort Four of Leading Edge's CEO Onboarding Program will provide new CEOs with the support they need to grow and build their organizations at this unique moment in history.
This period also underscored how lonely the chief executive role can be. The program creates a community of practice, including a growing alumni network which CEOs can turn to for ideas and support during and after the program.
"The Leading Edge CEO Onboarding Program alumni cohort is THE thing that has gotten me through this work." — Program participant
Key Details
Eligibility: The CEO Onboarding Program considers applicants who are the most senior professional leaders in their organizations and will have been with their organization for fewer than 30 months as of July 1, 2021. 
We're seeking executive professionals who are highly engaged in learning and supporting one another. We anticipate a competitive selection process with careful attention to be paid to ensure the diversity of the participants is honored throughout the program.
Timeline: Applications are open from now (March 16, 2021) until 5:00 pm ET on Thursday, April 15, 2021. 
Decisions will be announced in June.
What's in the program:
Virtual learning sessions
In-person convenings
25 hours of support from an experienced, accomplished executive coach
Training at the Center for Creative Leadership, a leadership development institution ranked among the world's "top 10 providers of executive education" by Bloomberg BusinessWeek and The Financial Times
A confidential 360-degree evaluation as well as other assessments designed to give you the critical self-knowledge needed for professional improvement
A network of trusted peers with whom to share challenges and celebrate successes
More information
Read the FAQs about the CEO Onboarding Program.
Get to know the most recent cohort and other alumni.
More questions? Contact us at executiveprograms@leadingedge.org.