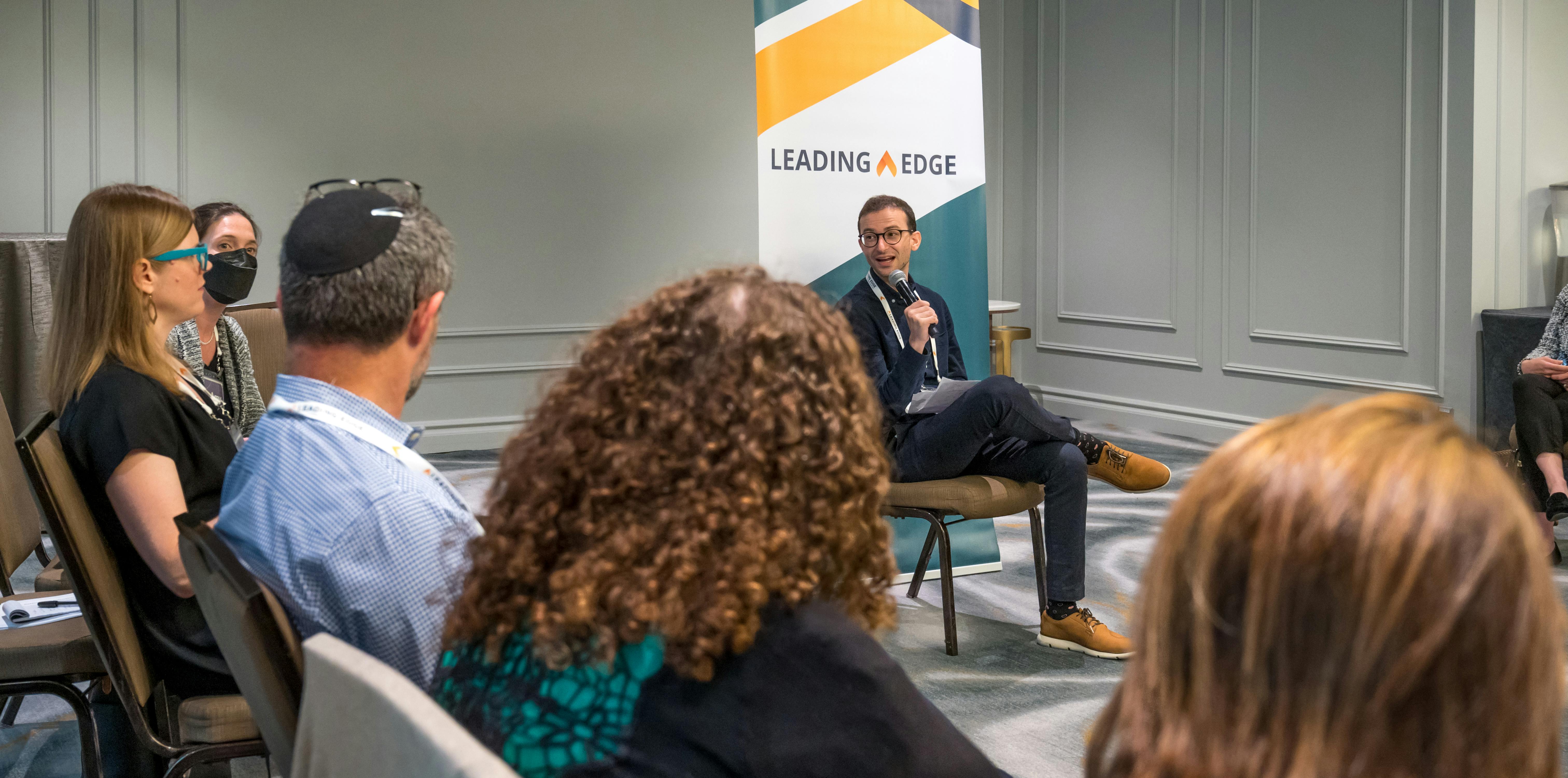 How we show up together at Leading Edge events and programs.
Presence | Hineni

To facilitate our learning and connection, we will strive to each be as present as we can be during the convening, including limiting the use of technology to break times. We are all responsible for owning the learning that will take place here.

We are inspired by the concept of "hineni:" I am here.

Risk-taking | Nahshon

We are each invited—as we feel comfortable—to share our successes, challenges, dreams, and fears. We are each invited to try on new ways of thinking and being that will enable us to grow as leaders.

We are inspired by the Biblical character of Nahshon, who, according to Jewish tradition, took the first leap into the Sea of Reeds, without knowing what the outcome would be.​

A learning posture | Anavah

We all have much to learn and teach each other. We are invited to look inward and outward to seek new pieces of wisdom, knowledge, and connection.

We are inspired by the concept of "anavah"—humility, knowing that when we take the time to reflect upon and understand our internal experiences, we will unearth fertile ground that is the bedrock for learning and growth. ​

Trust | Dan lekhaf zekhut

We build safety by trusting that our words and stories will remain in this space and will not be repeated to others without our permission. In our interactions with each other, let us assume positive intent and recognize that our words and actions may sometimes have unintended impacts on one another. Let us commit to addressing issues as they arise so that we can develop deep and honest relationships with each other.

We are inspired by the concept of "dan lekhaf zekhut," judging one another favorably. 

Speaking only for ourselves | Kevod habriyot

As leaders and as human beings, we each hold a variety of identities that shape who we are in the world. We are each the only experts on our own lived experience, and come to this space representing only ourselves—not any group.

We are inspired by the concept of "kevod habriyot" (human dignity), which asks us to recognize the uniqueness and infinite worth of each human being. ​